Christine M. Hammond
Retired, Mid Michigan College
ACAO Advisory Council Member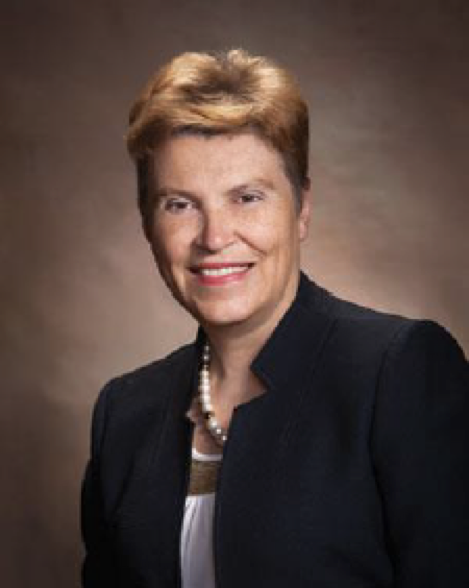 Dr. Christine M. Hammond served as the President of Mid Michigan College from June 2014 through her retirement in June 2020.
During her tenure, President Hammond positioned the College to anticipate and respond to the needs of the students and communities it serves. Focusing on student success and degree completion, the College developed 60 academic pathways and expanded its student services, including the creation of centers for veterans and career development. She strengthened ties between the College and the regional manufacturing and economic-development groups and, by listening to their needs, connected the College's skilled- trades programs to employer needs. These efforts enabled hundreds of Mid students to earn industry-based credentials through the National Coalition of Certification Centers (NC3) and its partners: Snap-On, Trane, Starrett, and Cisco.
The College's shared-governance system was developed and implemented under President Hammond, and leadership and professional development opportunities for employees at all organizational levels were substantially expanded. Concurrently, Life-Long and Community Education programs were reinvigorated, state funding and donor support were increased, and the College enhanced its presence as a respected resource for education and economic development across the mid-Michigan region.
Hammond also revitalized the Harrison campus with a major renovation of the College's original classroom building, replacing deteriorating infrastructure and mechanical systems with cost-saving energy efficiencies and adding a new Outdoor Education Center.
President Hammond's efforts were recognized at the State and national level. She received the Shirley M. Gordon Award of Distinction and the Bennett Lifetime Achievement Award from Phi Theta Kappa; the Patriot Award from the Employer Support of Guard and Reserves organization in 2018; and the Key Partner Award from MSU Extension in 2019. Upon her retirement as President of Mid Michigan College, the Chair of the College's Board of Trustees, Mr. Douglas Jacobson, issued a statement that "No one works harder than she does, and we are incredibly grateful for her vision, her dedication, and her leadership."
Prior to assuming these responsibilities, Dr. Hammond was the Chief Academic Officer for North Central Michigan College, a community college in Petoskey, Michigan. In that role, she provided leadership for its academic program, including accreditation; curricular development; faculty recruitment and development; corporate and community education; off-campus centers; and library and instructional technology. She collaborated with faculty and staff across the College to lead student success strategies in conjunction with the College's Achieving the Dream initiative.
Dr. Hammond's career integrates numerous leadership experiences in student and academic affairs across a variety of institutional settings. At Michigan State, a major research university, she served, among other roles, as the Executive Director for Administration at the Law College for ten years and as the Senior Project Coordinator for the university's initiative in Dubai, U.A.E. At Lawrence University and Thiel College, which are private liberal arts colleges, she served as an administrator in student services. She is known for her ability to design systems, policies, and practices for effective institutional governance and management, and for the effective use of data in curriculum development, strategic planning, and budgeting.
President Hammond holds a Bachelor of Arts degree in English from Thiel College (1977), a Master of Arts degree in College Student Personnel from Bowling Green State University (1978), and a Ph.D. in Higher Education Administration from Michigan State University (1994).
At the national level, she serves on the advisory board of the U.S. Global Leadership Coalition and of Phi Theta Kappa. At the state and regional level, she serves on the MI-ACE Network for Women, the Central Region Board of Mid-Michigan Health System, the MSU Ag-Bio Research Council, and as a peer reviewer for the Higher Learning Commission. At the local level, she is member of the Petoskey Rotary.
Dr. Hammond's husband Tom is a professor-emeritus of political science (Michigan State University). They are the proud parents of young professionals Emily and Stuart.