Peter Nwosu
Lehman College of The City University of New York
ACAO Board of Directors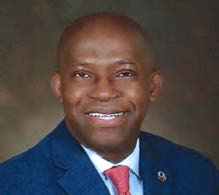 Dr. Peter Nwosu became provost and senior vice president of academic affairs and student success at Lehman College of The City University of New York, effective spring 2019. He has broad responsibilities for advancing excellence in faculty teaching, research and scholarship, improving student success outcomes (access, learning, retention, graduation, and post-graduate experiences), and achieving greater academic and institutional effectiveness at the college. His portfolio includes five academic schools; student affairs; enrollment management; library; research and sponsored programs; and international programs and global partnerships, among others.
An American Council on Education Fellow and Fulbright Scholar, Dr. Nwosu is a nationally recognized academic leader whose impactful experience includes the collaborative design, development, and implementation of initiatives ranging from curricular modernization and innovation, to guiding faculty and staff development, expanding opportunities for faculty and student research and creative activities, aligning academic and student life, fostering strategic partnerships, and improving student success outcomes.
Dr. Nwosu currently serves on the Executive Board of the American Council on Education Fellows Program, the Board of Directors of the California Urban Partnership, and the Board of Directors of the national Association of Chief Academic Officers.
Dr. Nwosu earned a Ph.D. in communications studies from Howard University in Washington, D.C., and is also a graduate of the Institute of Higher Education at Harvard University.