Laura Niesen de Abruna
York College
ACAO Board of Directors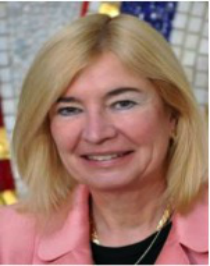 Laura Niesen de Abruna began serving as provost of York College on July 1, 2016. She previously served as provost and vice president for academic affairs at Sacred Heart University.
Niesen de Abruna has more than 35 years of experience in higher education, both as a faculty member and as an executive manager with expertise in strategic planning, fundraising, enrollment management, board relations, and graduate and undergraduate curriculum development. 
Niesen de Abruna has had a central role in the fundraising initiatives at five institutions and has been instrumental in bringing in more than $20 million in gifts and $25 million in grants over the course of her career. In the area of strategic planning, she served as special assistant to the president for strategic planning at SUNY Oswego and was the officer in charge of strategic planning at Heidelberg University in Ohio. She has served on the Board of Trustees of Ithaca College and has organized board committees at Susquehanna University, Heidelberg University, Roger Williams University, and Sacred Heart University. 

She has overseen regional reviews by the New England Association of Schools and College, The Higher Learning Commission, and the Middle States Association of Colleges and Universities, and has also overseen professional accreditation reviews for programs in Social Work, Physical Therapy, Nursing, Occupational Therapy, Physician Assistant, Athletic Training, Education, Engineering, Architecture, Music, Business, Chemistry, and Construction Management. At Sacred Heart University, she has worked extensively with Enrollment Management, serving as vice president for enrollment management for the 2011-2012 academic year and focusing on student success in retention, advising, and persistence to graduation. The University has added 21 new graduate programs at the master's and doctoral levels in the past three years.
A graduate of Smith College, Niesen de Abruna has a deep involvement with the liberal arts, having majored in English and French, and having spent a year at the University of Paris. She received a master's degree and a doctoral degree in English from the University of North Carolina at Chapel Hill and a Master of Science in Education in higher education management from the University of Pennsylvania. She has published extensively on women's literature, T. S. Eliot, and the role of the public intellectual in higher education. She has received numerous awards, including two Fulbright Fellowships in Belgium and Luxembourg, as well as fellowships from the American Council of Learned Societies, the National Endowment for the Humanities, and the American Council on Education (ACE). As a faculty member, she worked at Ithaca College, where she became assistant, associate, and full professor of English Literature. Previous full-time teaching included faculty positions at the University of Puerto Rico and the University of Texas at Austin. 

In the past three years, Niesen de Abruna has been extensively involved in leadership positions at the national level in higher education. She serves as a member of the board for Chief Academic Officers at the Council of Independent Colleges (CIC) and is currently a board director for the Association of Chief Academic Officers (ACAO).